Death Date
On the 11th day of February 2012, Whitney Houston was found dead in her hotel room at the Beverly Hilton.
Born Date:
Born in Newark, New Jersey, United States, Whitney Houston was born on 9 August 1963.
Cause of Death
Whitney Houston was diagnosed to have died of accidental drowning as a result of drug intoxication.
Resting Place
She was buried in Fairview Cemetery Westfield, New Jersey

At age 22, Whitney Houston released her debut album and scored three No. 1 singles. In 1987 when she delivered four more No. 1 singles, she earned her first Grammy award. In the midst of her bubbling career, she got entwined in marriage problems and ensuring drug use. Due to this, her career got off track. However, she made a comeback to her singing and acting career in 2002.
 Life and Career
Whitney Houston was raised as a Baptist and also exposed to the Pentecostal church, had her education at Mount Saint Dominic Academy. Her genres include R&B, pop, soul and gospel. Although she is always singing, she is also good on the piano. Judging by her affinity for singing and her ability to wow audiences, it almost seemed as if she was destined from birth to become a singer. At age 15, she had been performing with her mother while dreaming to one day get a record deal of her own. At age 19, she was discovered in a nightclub by Clive Davis of Arista Records. He signed her immediately and helped to navigate her career from gospel to pop stardom.
Her first album was released in 1985 which immediately became a sensation. The aftermath of the sensation coupled with the release of several singles over the year led to her winning a Grammy in 1986. She enjoyed a series of successful career moves and was on top of her career. Nevertheless, her career and reputation almost tanked due to marital problems and substance abuse. She successfully crossed from singing to acting in 1992 when she starred in "The Bodyguard". Up to her death, she continued featuring in movies.
Death investigation
Whitney Houston, who died at the age of 48, was found dead in her hotel room at Beverly Hilton Hotel where a Grammy award celebration was being hosted by Clive Davis. A report released by the Los Angeles Coroner's Office on March 22, 2012, declared that the official cause of death was an accidental drowning. However, the effects of heart disease and cocaine which were found in her system were reported to also be contributing factors.
Media and Internet Coverage of Death
Some moments after the news of Whitney Houston's death started circulating and it was confirmed to be true; it was not long that CNN, MSNBC and Fox News all switched from their planned programming to devote to non-stop coverage of Houston's death. All the three television stations featured live interviews with people who had known Houston and those that had worked with her. Some of her peers in the music industry were also interviewed to shed more light on Whitney's personality. While some TV stations showed a series of past pictures of Houston, some broke off from their schedule just to keep playing her songs.
Memorial and Burial
On Saturday, February 18, 2012, a memorial service, strictly by invitation only, was held in honour of Whitney Houston at the New Hope Baptist Church in Newark, New Jersey. However, Houston was given a proper burial on February 19, 2012, in Fairview Cemetery, in Westfield, New Jersey, next to her father, John Russell Houston, who died in 2003.
Death Aftermath
Although Houston was supposed to attend the Grammy award celebration prior to her death, her death did not stop the Clive Davis program from being continued. While Clive Davis continued the program presenting the idea that Whitney would have wished the program continue, there were mixed reactions that followed. While some invited artists initially sang a eulogy for Whitney before their presentation, some celebrities opposed the move by Clive Davis to continue the program.
Various celebrities, including her estranged husband, gave their statements with respect to her death. They were so shocked by her sudden death. Fans all around the world also mourned the death of Whitney Houston.
Monuments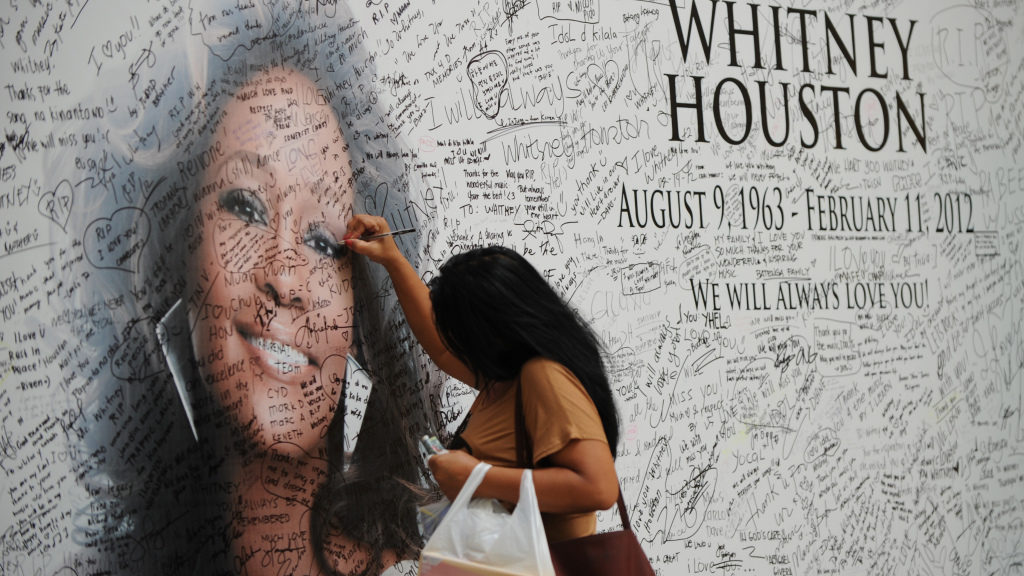 In the aftermath of her death, a giant mural with a portrait of Whitney Houston was installed in a mall in Manila for her fans to sign their tributes to the pop star.
A year after the pop star's death, a headstone was placed on Whitney Houston's grave. The monument, which is a teardrop-shaped monument, features a heart-shaped engraving which has an inscription of the pop star's portrait. The inscription also featured her name, birth date, death date and the words: "The Voice". Another inscription on the monument is a line from her song "I Will Always Love You".
Other names she may have
Although popularly called Whitney, her other name is Elizabeth.
Occupation
During her lifetime, Whitney Houston was a well-known singer, actress, film producer, record producer and model.
Years active as a singer and actress
Professionally, Whitney Houston was active for 35 years (1977 – 2012)
Spouse(s)
In 1992, Whitney Houston married Bobbi Brown but they divorced in 2007.
Relatives
Members of her extended family include John Russell Houston, Jr. (father), Cissy Houston (mother), Garry Garland (Half-brother), Michael Houston (brother), Dionne Warwick (cousin), Dee Dee Warwick (cousin) and Leontyne Price (cousin).
Also, her marriage to Bobbi Brown was blessed with a girl, Bobbi Kristina Brown.
Awards
Whitney Houston received various awards during her active years as a singer and actress including the following:
American Music Awards (22 wins)
Billboard Music Awards (16 wins)
Emmy Awards (2 wins)
Grammy Awards (7 wins)
Guinness World Records (15 wins)
NAACP Image Awards (29 wins)
People's Choice Awards (8 wins)
Soul Train Music Awards (12 wins)
World Music Awards
Besides the awards she won, she was nominated for several additional awards.
Official Website
His official website is WhitneyHouston.com